If you're ready to take your mobile marketing to the next level, consider a mobile app.
Mobile applications (mobile apps) are software applications specifically developed for mobile devices such as smartphones or tablets. Unlike mobile websites, mobile apps are actual applications downloaded and installed on a user's mobile device. Users visit device-specific portals such as the Apple App Store, or Google Play (Android Market) to find and download apps for their device.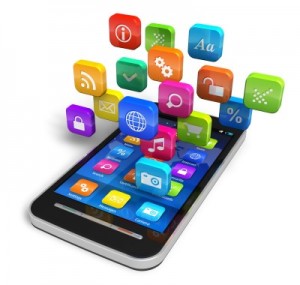 Mobile apps can be one of the best ways to keep your consumers engaged with your brand as they are on the move.
Mobile apps enable companies to be involved in an instant and deliver value at a time of need.
A mobile app is any program you can use from a mobile phone – the most commonly used mobile apps are email programs, games, and internet browsers. Some people use mobile apps for entertainment, while others use them to find local sales and business information. Likewise, a small business mobile application is an online tool, accessible from your smartphone, which allows your customers or employees to conduct business with you. Some mobile applications offer productivity tools that give you and your employees the ability to charge and track financial transactions with vendors or customers.
Mobile App Stats:
Mobile apps downloads and usage are on the rise according to a recent study by Juniper Research. The firm estimates that by 2016, 66 billion mobile apps will be downloaded compared to 31 billion downloaded in 2011.
There will be one mobile device for every person on earth by 2015.
We can create a custom mobile app for your company on the iOS (iPhone, iPad) and Android platforms.
Contact us today to learn more about how mobile apps can help your business.