10 Dec

Official Website of Harvard Men's Basketball Coach Tommy Amaker Launched

Delray Beach, FL – Power Play Marketing has announced the launch of their newest project, the official website of Harvard  Basketball Coach Tommy Amaker. The new website will officially launch on Monday, December 10th, and be available at TommyAmaker.com.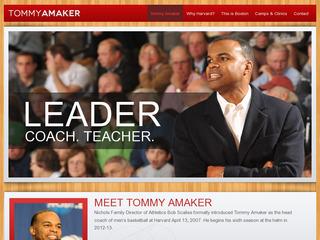 Tommy Amaker is currently the Head Men's Basketball Coach at Harvard University, a position he also held at the University of Michigan and Seton Hall University. As an All-American player at Duke University, Amaker earned many honors and set numerous records. In his tenure as Harvard, Tommy Amaker was the first Coach in school history to lead a team to a share of the Ivy League championship.
The new website features information about Amaker's coaching career, camps and clinics, as well as the latest Harvard Basketball news. There are links to purchase tickets, as well as to connect to Harvard Basketball's Twitter page. The website's clean design offers visitors an enhanced user experience.
Yanni Hufnagel, Assistant Basketball Coach at Harvard University said: "We couldn't be more pleased with Jeff Klein and Power Play Marketing for their work on the re-design and re-launch of TommyAmaker.com. They took a few core ideas about what we wanted out of the site and creatively put all the pieces of the puzzle together. We wanted a visually stimulating website that was easy to navigate. Power Play Marketing really came through!"
Tommy Amaker, Head Basketball Coach at Harvard University said: "We have high standards for every aspect of our program, and Jeff's work meets those standards. We are very pleased."
Jeff Klein, Founder and President of Power Play Marketing said: "We are excited to have launched Tommy Amaker's Official website, and we are confident it will be a great resource for anyone wanting to learn more about Coach Amaker and Harvard Basketball."
Jeff Klein is a 13-year veteran of the Internet Marketing industry, having held senior level positions in web design, Internet marketing and e-commerce. Mr. Klein has experience in designing and managing online marketing and SEO strategies for small to mid-sized businesses across many different niches, with clients including local and national businesses and public figures such as Duke Basketball Coach Mike Krzyzewski (CoachK.com), and Harvard Basketball Coach Tommy Amaker (TommyAmaker.com).
To learn more about coach Tommy Amaker, fans will be able to visit his official website TommyAmaker.com starting on Monday, December 10th. To find out more about Power Play Marketing, please visit https://powerplaymarketing.com/.
About Power Play Marketing
Power Play Marketing provides Web Design, Search Engine Marketing, Mobile Marketing, and Reputation Marketing services to small and mid-sized businesses. Located in Delray Beach, Florida they serve local businesses in Broward and Palm Beach Counties.
Contact Information:
Power Play Marketing
1280 Delray Lakes Drive
Delray Beach, FL 33444
United States
Phone Number: 561-276-8323