Our web design portfolio contains many examples of our engaging and effective web site designs.
Newman Properties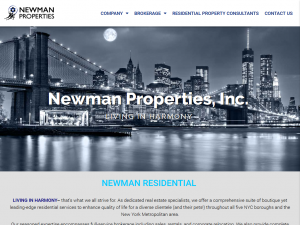 Newman Properties, Inc. has been a trusted resource in the real estate business since 1990. Our seasoned experience and strategic locations in Manhattan and Long Island afford us the ability to seamlessly serve clients' real estate needs in all five NYC boroughs, and the entire Tri-State area.
Visit the newmannyc.com
Coach K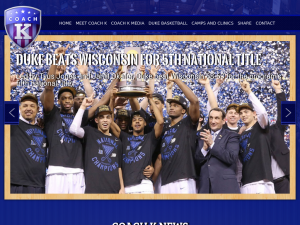 The Official Web Site of Duke Basketball Coach Mike Krzyzewski. Learn about Duke's Hall of Fame Coach both on and off the court. Read motivational quotes and biographical information. Stay up to date with Coach K News. You can even Share Your Coach K Story. This unique feature offers fans the chance to share how Coach K has positively impacted their lives.
Visit the coachk.com
K Academy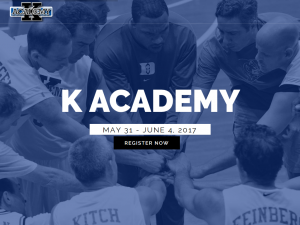 K Academy is America's number one college basketball fantasy camp. Now in its tenth year, K Academy will once again bring team-building techniques into an once-in-a-lifetime experience for the ultimate Duke or college basketball fan.

"It has been a fantastic experience to collaborate on this website with Jeff Klein. Jeff combined his personal knowledge of the fantasy camp with his creativity in web design to create a truly impressive finished product."
– Rachel Fish Curtis, Duke Basketball Legacy Fund
Visit the kacademy.com
BioGreen Organic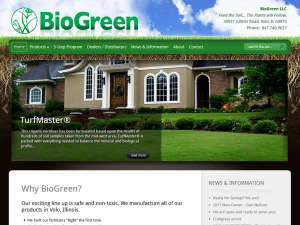 BioGreen manufactures and sells a wide range of products for lawn, tree & shrub care and gardens, as well as for soil fertility. They prepare custom blended fertilizers based on soil samples provided by our customers.
Visit the biogreenorganic.com
.
.
Irish Acres of Florida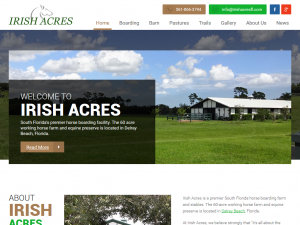 Irish Acres is a premier South Florida horse boarding farm and stables. The 60-acre working horse farm and equine preserve is located in Delray Beach, Florida. The Delray Beach horse farm offers extensive trails and large, well manicured open spaces for ground work, dressage and jumping. At Irish Acres, we believe strongly that "it's all about the horse."
Visit the irishacresfl.com
Cash of the Spot ATMs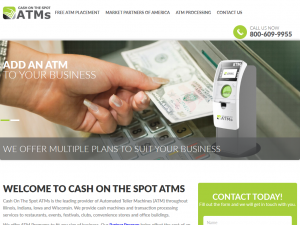 Cash On The Spot ATMs is the leading provider of Automated Teller Machines (ATM) throughout Illinois, Indiana, Iowa and Wisconsin. We provide cash machines and transaction processing services to restaurants, events, festivals, clubs, convenience stores and office buildings.
Visit cashonthespotatms.com
Get Hit Fitness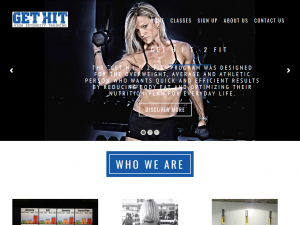 Group Fitness Studio in Boca Raton offers a variety of small group  training classes to fit your goals and needs.  Here at GET HIT Fitness, we try to please every client by keeping our class sizes no more than 12 people per class.  For the price of a group class you are getting more personalized attention.  This is what makes us superior to any other fitness studio's in Boca Raton.
Visit gethitfitness.com
TimmyPierce.com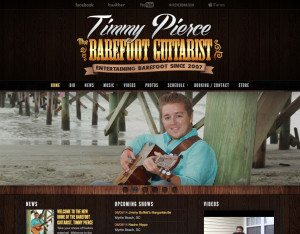 Official website of professional recording artist Timmy Pierce. Website features, news, photos, videos, and song downloads.

"In a fast ever growing age of technology, it seems anyone can build a website.  However, if you are looking for something more, Jeff Klein of Power Play Marketing brings to the table a level of creativity and professionalism like none other from the start to the finished product.  No matter the type of content, I would recommend Jeff and his team for any type of business."
– Timmy Pierce, Musician 
Visit TimmyPierce.com
A-ChristianGlass.com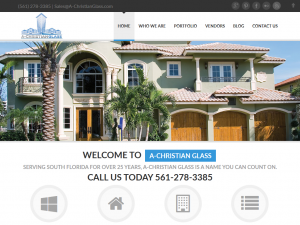 South Florida retailer offering custom glass, hurricane and impact windows and doors. In business for 30 years, A-Christian Glass services everything from a minor glass replacement to major high rise and commercial developments.
Visit A-ChristianGlass.com
Contenders Club
Contenders Club is a high intensity training regimen led by Fitness Trainer Rob Forcelli. Founded in 2000, this 60-minute workout is well known for being fun and challenging. Located in Scarsdale, NY.

"Based on the positive feedback I received from colleagues in addition to my own daily interactions, I can personally attest to Jeff's talent and expertise. He has the ability to create an attractive and user-friendly site in a timely, hassle-free, and cost-effective fashion. I would whole-heartedly recommend him."
– Rob Forcelli, Forcelli Enterprises, Inc.
Visit the Contenders Club website.
CameronBlue Capital
CameronBlue Capital is an investment capital firm located in McLean, VA. They provide skilled and experienced outside resources for owners and managers who seek to grow their business and achieve the next level of operating performance.
Visit the Cameron Blue Capital.
Other Happy Clients
TommyAmaker.com
The official website of Harvard Men's Basketball Coach Tommy Amaker. The new website features information about Tommy Amaker's coaching career, camps and clinics, as well as the latest Harvard Basketball news.

"We have high standards for every aspect of our program, and Jeff's work meets those standards. We are very pleased."
– Tommy Amaker, Head Basketball Coach, Harvard University
Visit TommyAmaker.com

Dramatic Decor
Dramatic Decor is a unique interior design studio and furniture showroom located in Port Salerno, Florida.

"Jeff did an excellent job setting up the website for my business.  He evaluated exactly what I needed and put together a simple but elegant website that is easy for my clients to use… I look forward to working with Jeff for many years to come."
– Sharon Gorie, President/ Dramatic Décor
Visit the Dramatic Decor website.